Reflects in Silence...
Since that in 1993 they decided to form the project Decoded Feedback, Yone and Marco have already esdited 5 excellent albums that will remain in the history of electro-industrial music. They are: Overdosing, Technophoby, Bio-Vital, Evolution e Mechanical Horizon. At the moment they're already finishing the recordings of their 6th LP wich that will be named Shockwave, to be edited in September. During the recordings sessions they had still time to answer to some questions to get us to know this fabulous duo a little better.
nsi: Can you tell us something about Decoded Feedback's history?
DF: We first started back in 1993. We were living in Torino, Italy at the time. The industrial scene was so strong and exciting that we decided to create this music ourselves. We started out with just a few instruments and a sequencer. We released our first self-titled demo tape in 1993. Side-Line Magazine gave it such a great review that Hard Records Europe contacted us and offered us a contract. We couldn't believe it. Our first CD "Overdosing" was released in 1996 on Hard Records Europe/Cleopatra. When Hard Records went bankrupt, Zoth Ommog and Metropolis Records took over our contract. We released "Technophoby" in 1997, "Bio-Vital" in 1998, and "Evolution" in 1999. We changed over to Bloodline Records in 2000 for Europe, but we still are on Metropolis Records in North America. We released our single "Reflect in Silence" and the full length CD "Mechanical Horizon" in 2000.
nsi: Your last album, Mechanical Horizon, has been released in 2000. Are you working on something new?
DF: We are more than half way finished our new CD "Shockwave". "Shockwave" has a much harder edge than "Mechanical Horizon". It will be released on both Bloodline and Metropolis Records in September 2002. There will also be a single released in August on Bloodline. The single will contain remixes by Noisex, Imperative Reaction and other groups to be announced soon.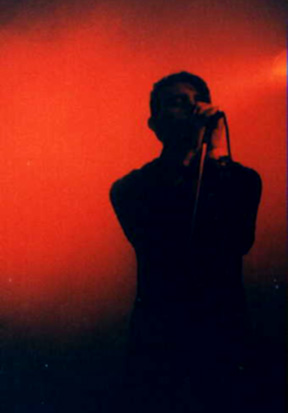 nsi: About Mechanical Horizon, I've noticed there was a little change on your sound. I think the music is more melodic than before. Do you agree? Can you tell us more about that last release?
DF: "Mechanical Horizon" was a much more melodic soundscape. It was a deeper, more emotional CD than our others. It reflected our lives and the lives around us. It reflected the world and our thoughts about it. But our new CD "Shockwave" takes on a heavier approach. It grabs you and drags you in.
nsi: You've also made a cover of The Sequel from The Fields of The Nephilim. Do they influence you?
Marco: The Fields of Nephilim is my favourite band. It only seemed natural to finally pay homage to them.
nsi: What bands also influence you when you are composing songs?
DF: We are not intentionally influenced by any bands while we are composing, but of course we are a little. We listen to music a lot, so you can't help it. We have been listening to a lot of noise and harder music lately, so there will definitely be a little noise influence on our new CD. Also, life itself influences us. It depends what is going on around us and in the world. September 11th has made a big impact on us and our music. These influences will come out in our music.
nsi: You have also released a single from the album, Reflects in Silence. In my opinion, the best track from the cd. Why did you choose that track to be the single? Please tell us more about this song, what feelings are you expecting to be felt by the listeners?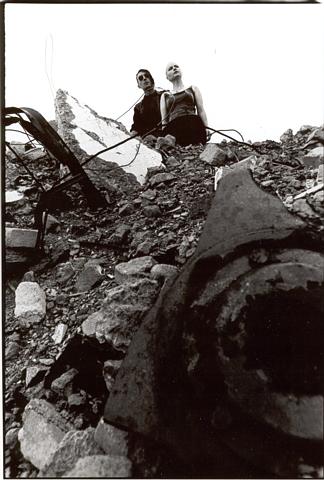 Marco: "Reflect in Silence" is also our favourite track. That is why we picked it for the single. We felt the melody and the lyrics reflected a kind of power to survive. The lyrics reflect the pain and suffering we have survived thoughout history. And that we must reflect back on what has happened. History is important. It helps us learn from our mistakes in order to not repeat them again.
nsi: Do you try to transmit any special message on your songs?
DF: We hope our music inspires strength and humanity.
Marco: Our lyrics deal with subjects that can relate to many people.
nsi: About live concerts, Is it easy to recreate on stage the strength we can feel when we listen a Decoded Feedback song at home, like Reflects in Silence for example? How powerfull are your live acts?
Yone: Our stage show brings out the strength in our songs. It brings our songs to life. We perform with passion and hope to make each concert a unique experience. "Reflect in Silence" is a real hit live. Marco really gets into it. He is very theatrical on stage. He loves performing. We have now added a professional drummer to our live shows. It is a big success. We will definitely use a live drummer in the future. It adds such power to the show.
nsi: How does the public react to a Decoded Feedback concert?
DF: They dance a lot :) They really get into it.
nsi: What are your plans for the future?
DF: We are planning to tour in the autumn in both the US and Europe. We are just in the planning stages right now. Also, we will be re-releasing our first CD "Overdosing" in April 2002 on Bloodline. We also have a techno/ambient side project we have been working hard on. We hope to release a single by the end of this year.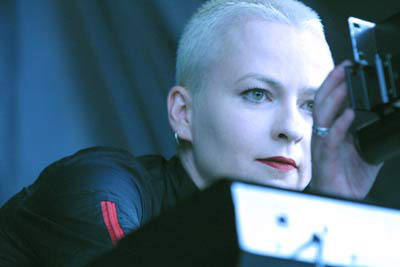 nsi: Any special message to the fans who will read this interview?
DF: We hope to see you live soon :) Support new music by buying CDs. Don't just download MP3s. Please buy the original. Keep the scene alive. Thanks.
Leonel Silva
(March 2002)