"Gate Coclusion Panic"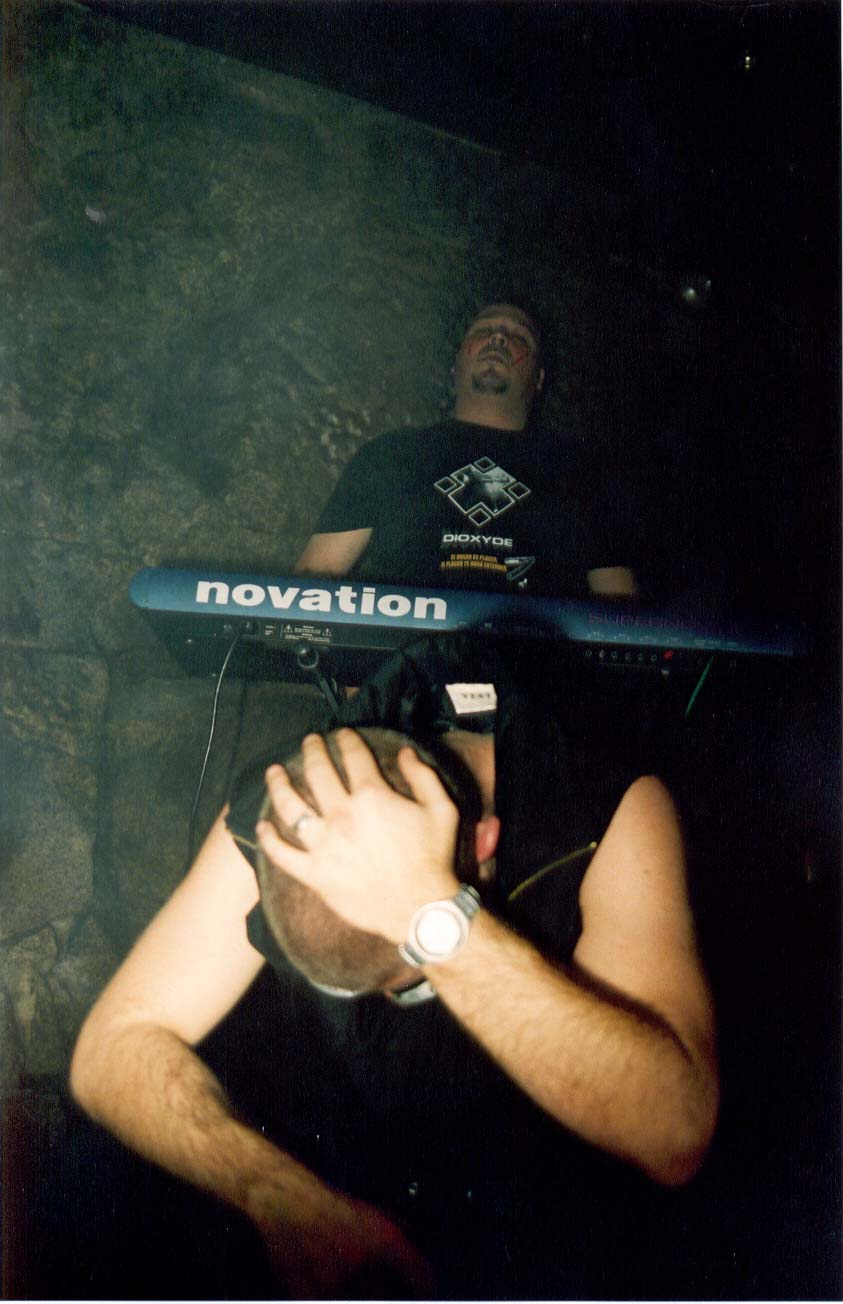 Marco founded the spanish electro-industrial project Dioxyde in 1997. In 1999 when Marco met Carlos they decided to continue Dioxyde as a duo. With the support of Johan Van Roy from Suicide Commando, Dioxyde could enter in the international electro scene. They signed with the german Dying Culture label and released in November the debut album "Torschlusspanik". They played live in some european festivals and came to Porto in November where they perform a fantastic live show.
"DIOXYDE uses technology to express his apocaliptic vision of life using the deep and expresive strenght of concepts like pain, fear, abuse, etc. This project does NOT support politic ideals, violence, and pretends not to be a storyteller, nor a message, just a scream on this world ruled by ignorance." in Dioxyde bio
nsi: In your opinion how was your live show in Porto?
Dioxyde: It was so great the way we were treated by the audience and organization and although was very satisfying to feel how people had so much fun on our show. It was an important feeling.
nsi: Your show was very energetic, the fact that the audience wasn't very big was not a problem for you?
Dioxyde: No, in fact it was not. Of course everyone wants big audiences, but everybody involved in the show were also very welcome. Also, from the stage we just see darkness and shadows so, psychologically I always think on three thousand people watching the show!
nsi: You have already played in big festivals, for lots of people. How do you think the public is recieving you? What's your feedback?
Dioxyde: Its difficult to find words to define the feeling of such a good response, when you feel people is having fun with our stuff. it makes us feel very proud. Playing in germany was like an exam for us, we were very nervous about people feedback and until now its been the biggest thing in our career.
nsi: Do you think that the fact of having the support of Johan van Roy had any influence in your projection in the electro scene?
Dioxyde: Definately YES! Having such a heavy weight behind us, having his trust and his support the way we had, has been definitory. We maybe won´t have gone further than playing for friends if Johan wouldn´t have been there with us. We owe him everything.
nsi: About your debut album. what means "TORSCHLÜSSPANIK"? Why a german title?
Dioxyde. It means "gate conclusion panic", but the real meaning is something like "to be afraid for what is comming next.. uncertainty". A german tittle... dunno why. Maybe a way to get a narrower contact with the motherland of the scene, and also has something with the wonderfull sound of german language, in our oppinion.
nsi: You signed with the german label Dying Culture. How difficult it was to have a contract with a label?
Dioxyde: We were lucky, as we didn´t have to pass through sending demo tapes to different labels, as Torben Schmidt was interested from the beginning.. the problem was that he ruled the label "bloodline" when he started to be interested on us. At that time, Bloodline was about to break, so we had to wait until the new label was running. So its been more than one year of continuous delays and nervous, but finally here it is!
nsi: Are you planning a promo tour for your debut album or only some shows?
Dioxyde: Here we are depending on Dying Culture. We would like to have our own tour, of course, but surely we will take part of different festivals, and MAYBE we could tour as support band from some FAMOUS band out there.. but this is still NOT confirmed.
nsi: Tell us a little about this first album.
Dioxyde: Torschlusspanik is hard stuff. Its a dry and energetic sound, and it comes from our feelings. Its the conjuction between two minds, two pararel brains that express this chaos and rage. Its a very complete album, that have shots from industrial, ebm and electro dark, making a killer cocktail. that´s the fucking TORSCHLUSSPANIK thing.
nsi: And about the lyrics? Any special message that you want to share with the public?
Dioxyde: We try to write lyrics that the listener can give his own meaning. Obviously, the subjects are always about pessimistic subjects. In fact they talk about the questions that interest us like the human beings we are. I mean DEATH, RELIGION, VIOLENCE, EMPTYNESS, and those kind of concepts that usually express rage and unconfortability with ourselfs. In fact we use vocals more like a sustrat on the track, than a message itself. The vocal track talks its message not depending on the words we use. My explanation is a little confusing, I know.
nsi: Some people have the idea that some industrial or related bands have Nazi ideologies. I noticed in the first page of your site a cuted svastika, that means that you are against that kind of ideas?
Dioxyde: That´s an important thing. It has to be CLEAR like water. YES, WE ARE AGAINST THOSE IDEAS! We use all that militar paraphernalia because we just extract the ultrapowerfull expressive meaning of icons. We use suffering icons, war pictures, and that´s part of dioxyde universe, but does not mean we support nazist or racist or any kind of violent position. We wanted that cuted svastika on our website as we don´t want neonazist like dioxyde fans. Not at all dioxyde also drinks from medical iconography, in fact every icon that could mean pain or agony in someway distress
nsi: Almost every electro bands are releasing remixed Cd. Are you planning any Mcd or single with Dioxyde songs remixed by other bands?
Dioxyde: I would like a lot to collaborate with other groups. That would be great, but again, it depends on dying culture. We are dealing with some bands (secret...) for remixing us..
nsi: Apart from Suicide Commando what other bands influenced you to start Dioxyde?
Dioxyde: Yelwork,Fla,Wumpscut,Suicide,Hocico,Click Click , Leather strips, Feindflug, and more...
nsi: Friday you will support Funker Vogt in your hometown, Madrid. Apart that show, what are your future plans?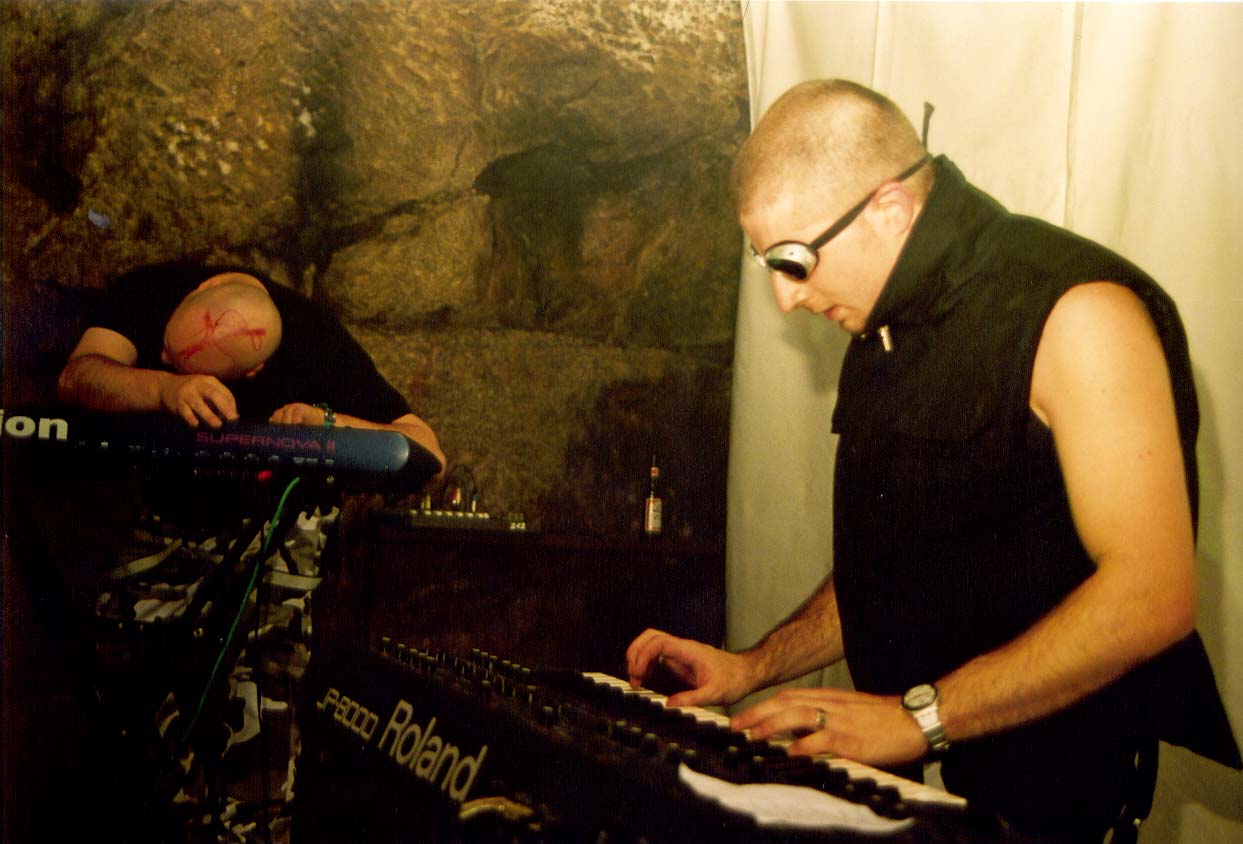 Dioxyde: April in barcelona, WGT 2003, but the most important project for next year is still secret.. its something BIG but still NOT CONFIRMED.
nsi: And what about the festival in barcelona 2 and 3 May?
Dioxyde: Yes. DARK SKIES OVER PARADISE: APOPTYGMA BERZEK, HOCICO, SUICIDE COMMANDO, DAS ICH, ISC, BLUTENGEL, DIOXYDE, ASPHALT, INSIDE AGITATOR, MISTERY OF DAWN, CULTURE KULTUR, FUNKER VOGT. Limited 3000 person, 50€. www.ticktackticket.com
nsi: Apart the live shows, any other plans?
Dioxyde: Keep working on good stuff, that is what makes us feel alive. Writting down tracks that we are proud after working them. Ahh and selling 30000000 copies of Torschlusspanik for going next year to jamaica on tour.
nsi: Thank you very much. Before we finish would you like to say something for you fans?
Dioxyde: We just want to THANK you all crew from Porto, specially you and Geraldo. We also would like to thank Nuklear Dawn and all the portuguese fans who are following us in the electro scene.
Leonel Silva
(December 2002)