Neuropa
"New Europeans" from Australia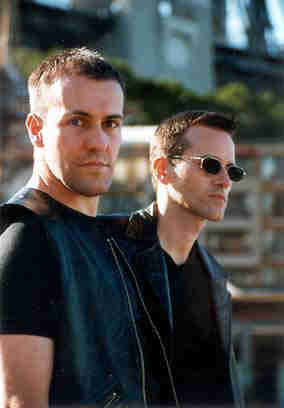 Inspired by the Synth-Pop from the 80īs and using the new technologies, Neuropa create an interesting electro-pop. Born in Australia in 1992 where electronics are almost unknown, they already had the opportunity to show their value in the United States stages. They began as Aura but change their name to Neuropa, inspired by the title song "New Europeans" of Ultravox. They are Albert Martinez and Jason Last, and there are some questions nsi-online asked them, via e-mail, to better know these "New Europeans" from Australia.
nsi: Neuropa, originaly formed in 1992, as the name of Aura. Tell us what happen to the project between 1992 and 1996, when it became Neuropa.
Neuropa: Learnt how to write decent songs & recorded the first album "New Faith". The band name change was inspired by the title of the Ultravox song "New Europeans".
nsi: And from 1996 till now?
Neuropa: Well, recorded "Sins of the Heart", "Alternate Faith", "Beyond Here & Now" & had a lovely US tour in-between, not to mention getting voted "best international artist" at the American Synthpop awards last year. Now we are working on new material.
nsi: Is it easy to do electronic music in Australia, is the australian public receptive to that kind of music?
Neuropa: It is totally unknown here!
nsi: Neuropa are already known in Europe and the United States, was it easy to show your work out of Australia?
Neuropa: A stroke of luck really, the guys from the synthpop network got us in contact with A Different Drum & the rest is history.
nsi: We can hear, in your songs, many influences from bands of the 80's, like Depeche Mode or Ultravox... And what about new bands that are now very famous in the electronic scene, any special ones that also influences your sound?
Neuropa: Oh, absolutely. I love Elegant Machinery & And One. I also like Covenant, APB etc. They influence production styles eg. Futurepop rather than songwriting or melodies which we just tend to do ourselves.
nsi: Your songs are full of fellings, can you explain us what you pretend to share with the public through the lyrics and the music you do?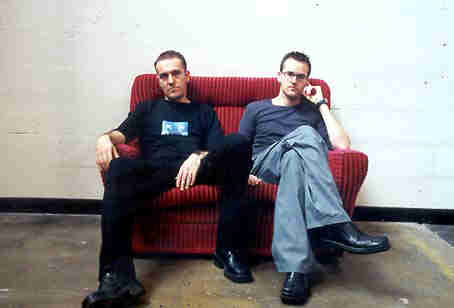 Neuropa: I suppose I like to express my emotions or opinions in a way that others may relate to. It gives me a lot of satisfaction when people understand what I'm trying to say. The lyrics are straightforward & there are certainly recurring themes from song to song, sometimes personal feelings but sometimes only observations.
nsi: About live shows, have you already done many shows in Australia? And out of Australia? Do you use any special visual effects on stage?
Neuropa: Our last decent gig in Australia was filmed & it is on our "Alternate Faith" cd as a video file. We played in NYC, DC & Chicago in 2000, which was really a lot of fun. We did not take any equipment for the US tour & just had lighting but we have had full videoscreens & so on here.
nsi: Are you planning any show in Europe, maybe to promote the last album?
Neuropa: We would absolutely love to play in Europe & to promote the last album or future one over there would be a great idea. Any promoters offering?
nsi: Are you already working on new material for a future release?
Neuropa: Yes of course we are, that's what we do!
nsi: What are your plans for the future?
Neuropa: Release another album & hopefully get better & better. Tour Europe or America again. Have a single in the top 40!
nsi: Any special message to the fans who will read the interview?
Neuropa: Thank you! I record & write songs basically because its what I want to do but positive feedback is always appreciated!
l.r.s. (March 2002)