Project-X
Infecting the Systems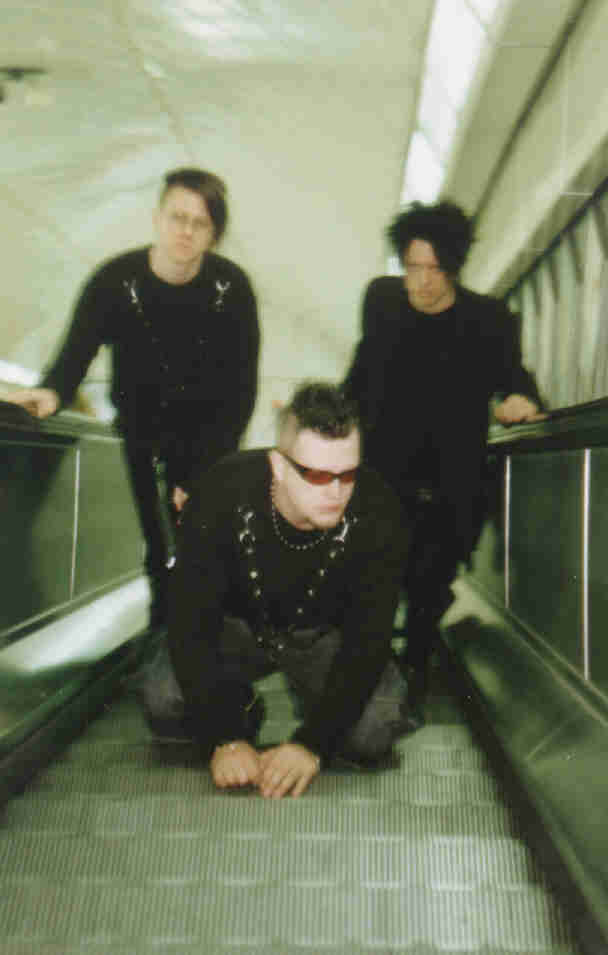 After some changes from the beginning of the band till now, the Project-X are currently Torny Gottberg, who started the band, Bjorn Larsson and Johan Lindsjo. nsi-online spoke with Torny to know more about this project wich debut album Forbidden Desires was the most selling on their label. Influenced by EBM and electro-industrial "old-school", Project-X's sound is very energetic and powerfull. The power they share with the public during the live acts. They are preparing a new album: Modus Operandi, to be released at the end of the summer. And before that, 2 singles, Infected and Reminder will be released soon, with remixes from lots of famous electro bands. Here's the interview with Torny.
nsi: Can you tell us some of the Project-Xīs history, how did the project start and who are the Project-X?
Torny: Project-X, the name and concept first started in the end of 1994 when myself (Torny Gottberg) and a friend of mine (Andreas Sandberg) decided that we wanted to do some music together since we both shared the same view in electronic music. At that time we both played in different bands. I played in a band called Effect that was a typical EBM band and before that I made some softer stuff with friends. Andreas played in JSA which was a techno/dance act. Said and done we started to do some songs and by summer 1995 we released our one and only demotape called "309 Steps Between". Shortly after this Andreas left the band due to lack of time since he was studying very hard. This could have been the end of Project-X but I decided to leave Effect and go on with Project-X instead. In 1996 we released a limited tour CD with some help from the Swedish label Memento Materia but we signed to another label called Energy Rekords in 1997. Today myself, Bjorn Larsson and Johan Lindsjo form the band.
nsi: You have now release a new Cd, can you tell us something about it?
Torny: The new CD is called "Closing Down The Systems" this holds previously unreleased material such as remixes/versions and 3 live tracks for a total of 19 tracks. I donīt really consider it to be a brand new CD since itīs limited to only 1000 copies worldwide but its an album we really have wanted to do for sometime. The brand new forthcoming album is called "Modus Operandi" and there will be two singles released prior to that one called "Infected" and "Reminder" with mixes from Suicide Commando, Flesh Field, The Nine and Assemblage 23 just to name a few. There are going to be two different versions of the singles. One EP with all the mixes and one release holding 4 tracks for the DJīs and the people that think remixes are boring... hehehehehehe.....
nsi: Tell us a little more about the forthcoming releases. What bands will be doing the remix on "Infected" and wich ones on "Reminder"?
Torny: On both "Infected" and "Reminder" there as so many remixes made. We are going to choose the ones to be on these releases together with both our labels Energy Rekords in Europe and Inception Records for North America. Suicide Commando do the track "Modus Operandi" which is the title track of the new album but is going to be on the single as well. Neuroactive, The Nine, Assemblage 23 and Velvet Acid Christ among others are doing "Infected" and "Reminder" is made by Flesh Field, Lights Of Euphoria, Tolchock and Spanky (worked with Underworld etc.) . Itīs going to be released as two different versions, one will hold around 8-9 tracks and be sold as a low-priced Mini-CD and the second one will be with 3-4 tracks sold very cheap but basiclly just made for promotional give-aways and stuff like that.
nsi: Do you already have the release dates planned for the singles?
Torny: The scheduled release is set for April 2002. And after that the UK-tour with E-Craft and Inertia.
nsi: And what about the album "Modus Operandi", when will it be released? Are you already working on it? What could we expect from this new release?
Torny: The work with "Modus Operandi" is actually more or less in the final stages and we hope to release it by August 2002. We have been working for almost 2 years on and off with this CD. And due to the fact that I really wanted to make it a much better album than "Forbidden Desires" and that Iīm so picky with the sounds, sometimes it feels like Iīm working on sounds forever before I put them together. The biggest difference from "F.Desires" is that the production, sound is much better and that the tracks have a much harder edge to it than before.
nsi: Most of the EBM or Electro-industrial bands are now doing Techno or Synth-pop and it seems that they have much success. Project-X still does music harder than synth, like the old EBM and the public seems to like it. Do you think the market is big enough for all that different styles of electronic music?
Torny: To be honest I havenīt been thinking much about it. I donīt really like what they call "future-pop" itīs to commercial for me. Iīm more of an old-school person. I think this "four-to-the-floor"-beats that have come out is okay at clubs but I would not really listen to it at home. Maybe we should start a new wave of music called "future EBM" or "future Industrial"... hehehehehe...... But I think the kind of music that Project-X does will never be a "big thing" for the masses. But we have never aimed to be famous either. We make music that we love and if people like it, thatīs great. But if they donīt we kill them... hehehehehe... nahh... itīs fine as well. There are bands around for all tastes I think.
nsi: "Future EBM" sounds good to me! :) That means that project-X are doing some kind of "Future EBM", taking the hardness and distorted vocals from old EBM and mixing it with powerfull and sometimes danceable beats?
Torny: Yeah, I guess you could say that. I have tried to make the songs more suitable for the clubs this time around. Forbidden Desires was adjusted a lot to work for liveshows and this time I aim to get it to work both ways. Hehehehe... the term "future pop" really pisses me off... so I guess Future EBM is the next big wave to hit.... hehehehehehe.......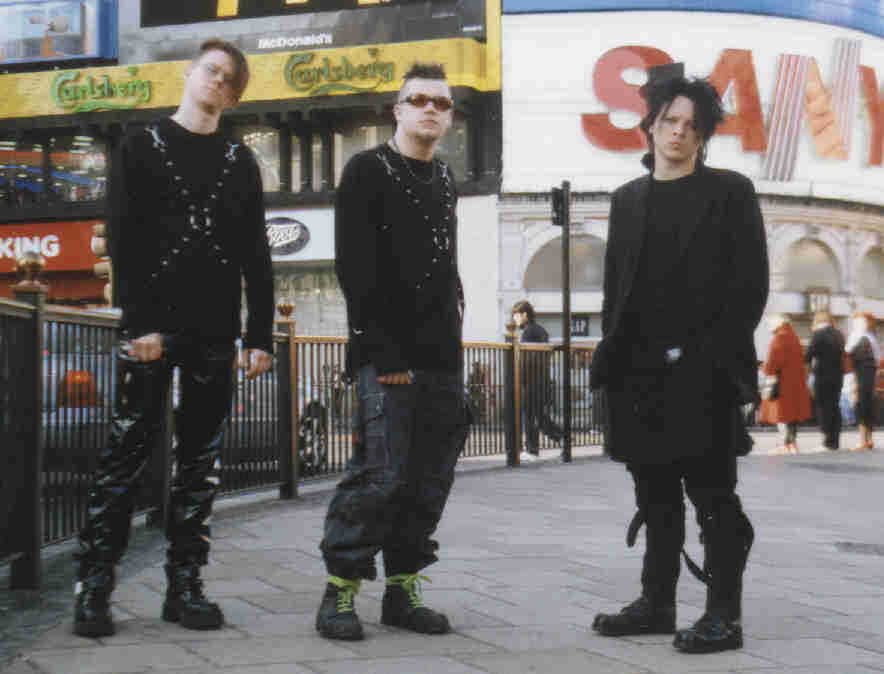 nsi: How are your live concerts, how does the public react to your powerful music?
Torny: Our concerts are very energetic and wild. I really always try to give 110% for the audience and the reaction I think is different depending on the people and place. For example, in Germany the audience is pretty cool and laid back even if they are totally in to the music while people in Sweden go crazy in front of the stage. I think itīs different all over the world.
nsi: Are you going on a tour to promote your new Cd? Which bands would you choose to support your tour?
Torny: Yes, we are going to do some shows with this limited one. Some shows in Scandinavia and one week in the United Kingdom and Ireland. But we will not do a full tour until this autumn when we release "Modus Operandi". With that release we will once again do a very big European tour and hopefully some North American dates as well. We have a show planned for Mexico also. This spring in United Kingdom we will be supported by a German act called E-Craft. We normally donīt choose support ourselves but for the tour this autumn we will. Normally we bring a band which we know and are friends with. Itīs best since touring can be pretty hard.
nsi: Are you planning coming to Portugal to play live?
Torny: Ohhh.. we would love that. I heard a lot of great things about playing there. I think there is a club called Hard Club in Porto!? We would really, really love to play there but well I guess time will tell. But if they would be interested we would do it for sure.
nsi: Many European bands are doing tours in the United States, are you well received there too? Will you go on tour there?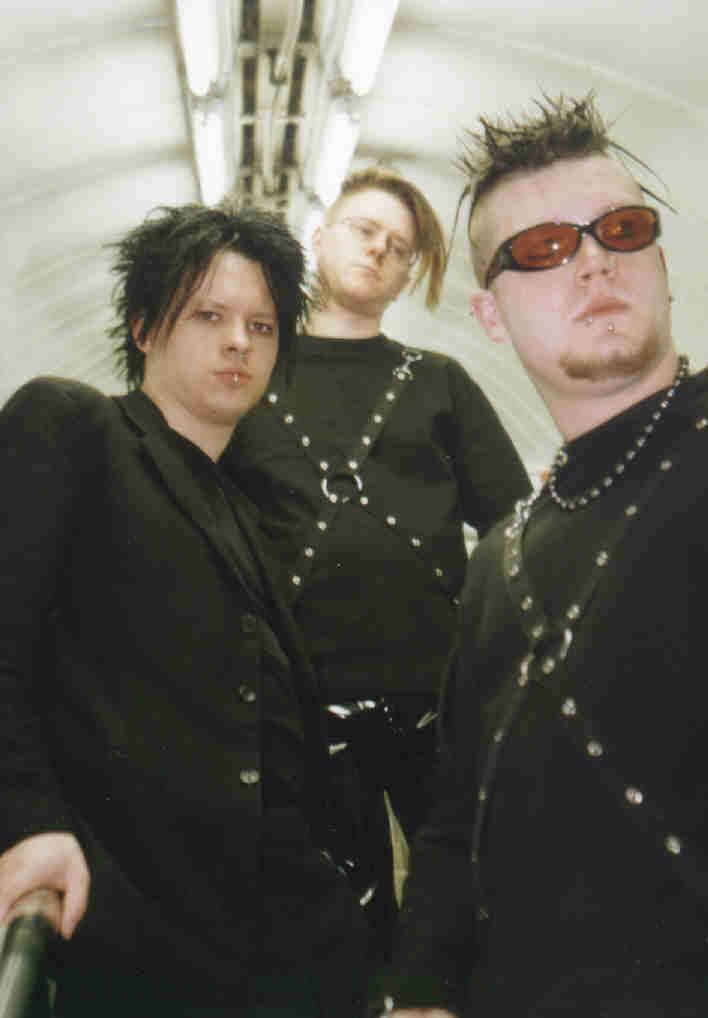 Torny: We did an almost two month long US tour last year together with our friends from Inertia. The tour was great but very hard due to the great distances between the different locations. Though it was great fun seeing 26 different states of that enormous country. Every state was like itīs own little country in a way. The people at the concerts were really nice and came up and talked to us which is rare I think because in Germany and Sweden they normally leave the band alone. But I really enjoy speaking to people at the concerts. We really hope to be back there already later this year to party again... hehehehe....
nsi: Tell us your future plans.
Torny: What will happen now will be a small tour first to promote "Closing Down The Systems" and after that we will aim with full force on the new material which will take some time. The album has already been delayed due to much remixing, touring and other things and this time we will finish it. After that as I said new massive tours and festival shows this summer I hope. We are also going to do some more remixes for other bands like American Noise Process and Lost Signal. So 2002 will be busy but I hope a really fun year and who knows hopefully we can do a show in Portugal as well. Would be great!!!
nsi: Thank you very much Torny. We hope to see you in portuguese stages soon. Have you any special message to your fans?
Torny: Take the greatest of care. And we canīt wait to see you all. Thank you so much to all of you for all support. You really make the time we spend on Project-X so much easier at times. Always find the latest news on Project-X at:
http://www.energy-rekords.se/project-x
l.r.s (February/March 2002)