Sabrina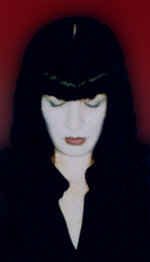 Moving in between Gothic and Pop, Sabrina has finally released her first album, Euphoria. At its time weŽll analyse this cd. For now, let us give you a bit more info about this new artist from the Dark American scenario through a short interview that NSI made possible via e-mail wit Sabrina herself!
nsi: Can you tell us a brief history and your project?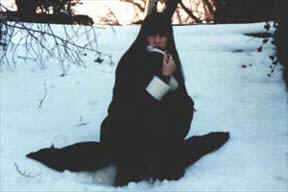 Sabrina: I was born in Belgium into a family of musicians, my mother an opera singer and my father a violinist. They both handed down to me a love of music, a voice, and the drive, so I decided I would follow my dream and went for it. Unlike my family of conservative classical musicians, I have always been driven by dark music, clothes, books, movies, dark, dark, dark. You may sense by listening to my lyrics that I don't deal with the happier side of life, I also take a stand and refuse to be a victim. As dark as things may get, there is always a way to handle it! I just wrote a song "Tell Me" about people sticking their nose in others business or passing judgment because they don't fit the mold of what they consider "normal" - what is normal? And should any of us who don't fit into their normal world care what they think?
nsi: You are going to release your debut CD. Is it going to be by a label or selfproduced, and what's the date of the release ?
Sabrina: Currently my CD is self produced and I'm looking to release it sometime in April. I am working as hard as I can to finish it. As for Labels, my Manager is currently meeting with various music lawyers to determine who will be shopping the CD.
nsi: How many people are involved in your project? And what are their functions?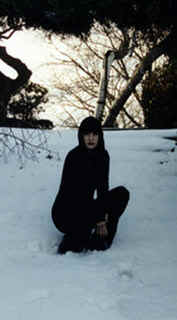 Sabrina: My Manager, John Pires, who is also the Executive Producer of the album, put me in touch with Spyro Karagiannis early on to produce and collaborate on material. Spyro who is from Greece is an excellent Producer who also plays piano, guitar, and bass. In those sessions Spyro and I did "I'm Alive", "Why Can't I Have You", and "Without A Trace". All but "Why Can't I Have You" will be on the CD. "I'm Alive" was a song written by my friend Russell Scott that I just loved and had to sing. "Bring Me Down" is a co-write between Russell and I and "Without A Trace" I co-wrote with Spyro.
The bulk of the album are songs I recently wrote with Keith Pires, John's cousin. Keith is a brilliant guitar player and bass player. He and I have a very relaxed way of writing songs. We get together in the studio, he comes in with some ideas on guitar and I apply the melody and lyrics, then we go from there. After we get the feel of what the song structure is, John does the drums, and then it all comes together. John also does all the production, mixing, and mastering on these songs.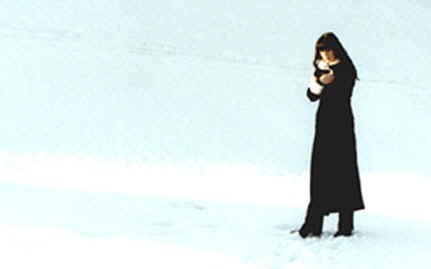 I have to tell you, I find myself extremely lucky to have such talented people on my side.
nsi: After the album release are you planning to go live?
Sabrina: Yes, when I am done making the album, I will be putting together musicians to play live.
nsi: Is there any date for the release of the album, and where can it be bought in europe?
Sabrina: My target date is for the end of April. I am not definitely positive where it can be bought yet, but we are leaning towards Amazon.com. Wherever we decide to have the CD sold, it will be posted and linked on my website
p.m.