Electronic pop songs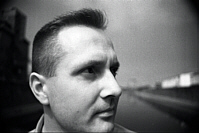 The german one man project Wave in Head was founded in 1993 by Michael. Six years after, in 1999 he produced his fisrt Cd, the "Rarely" Ep which was distributed only on the net. In 2000 was released the promotional "Criminal Ballad". After signing with the label A Different Drum, the debut album "Time to Speak" was finnaly released in 2001, with two singles, "Progress" and "I Began to Hope". This year was released the single "With You" and the second album "You" is ready to be released soon. If you thought that electronic pop music was over, you were wrong... and Wave in Head is a proof of it!
nsi: First of all, when and why did you decide to create the project Wave in Head?
Michael: I decided to create this project in 1993, in order to give my intentions a certain form. At that time I knew, that the music wouldn´t be a short time thing. I wanted more and I was aware, that I wouldn´t want to enter a stage without a "name".
nsi: Why Wave in Head, what does the name means to you?
Michael: Oh, that doesn´t mean anything special. It sounds good and it makes the people wonder, what it means. By the way, I like the word "wave" [grin]. That´s about all.
nsi: The first cd, the "Rarely" EP only appears in 1999. Why so long?
Michael: Well in 1993 I started with nothing but a Yamaha PSR 2500 keyboard, with a hand full of terrible cheap sounds, burned into an (at that time) expensive ROM - chip, without the slightest chance to alter them. I guess you will agree, that it makes no sense, to try to make a CD under that technical circumstances. Then I wasn´t really good at singing, had no chance, to record anything in a good quality and was far away from being good enough for getting a record deal. So I had to save money, buy new equipment, had to exercise, to get used to the technical side of the music and to wait until CD-burners become affordable.
nsi: This EP was distributed only on the internet. Why? Didn't you signed with any label at this time?
Michael: Funny but true - when I finished this EP in 1999, in Germany the electro pop wave was over. Most labels in that scene had gone out of business or worked with a small base of known or artificially created artists. And I wasn´t really sure, if that EP was good. Well, the reviews said it was, though I had a bunch of failures in the songs. However, I just wanted to produce that EP myself and see, if I can reach more attention among the music industry. And opening a website and joining several music-sites helped a lot.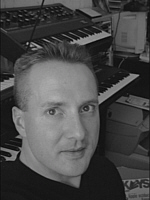 nsi: In 2000 you recorded a promocional album "Criminal Ballad" which never been on the shops. Can we find some of the tracks from this CD on the ones released after?
Michael: Yes, most of the tracks on "Criminal Ballad" have been revised and included on "Time to Speak". The excluded song "Straight on" and the english version of "wie Schnee" are available on www.MP3.com
nsi: In 2001 you finaly released the official debut album, "Time to Speak" and the Mcd "Progress". In the same year is released another Mcd, "I began to Hope", also from the debut album. Can we say that this year was a mark on the project's carrer? Tell us a bit about these first works.
Michael: In fact it was a mark. After some offers from several record labels in Germany and overseas, I signed with A Different Drum. A luck for me because ADD is probably the biggest label for this kind of music and one that is really enjoyable to work with at once. I signed in December 2000 and I remember, that the contract arrived more than 4 weeks later in Provo (UT). Probably I forgot the air mail stamp. Then we compiled a number of (already existing) songs for the first album and decided for "Progress" as the first single. Todd (Durrant - ADD) organized two remixes by DJ RAM and KAJ (another ADD band) and Greg Rolfes created the cover artwork for the first single. His cover made me really proud. He was very good at graphics at that time and has become more than excellent with his new work for my next album "You". Jarkko from the ADD band Neuroactive mastered the tracks for the factory and in May "Progress" was released, entered the label charts and in summer I finished my work for the album "Time to Speak". An exciting time, full of a lot of new impressions. After "I began to hope" I felt, that this year was quite important to my project, as WAVE IN HEAD got a lot of good reviews and plays at a number of radio stations, as well as a lot of new fans. Also I started to "network" with other bands, like Empire State Human from Dublin (Aidan Casserly wrote the track "Swinging Pendulums" which is on "I began to hope").
nsi: This year you already released the single "With You" and you are preparing the release of your second album "You". What's the evolution, the differences between this new CD and the debut one? What can we expect from it and when will it be released?
Michael: I can´t tell you the release date yet, because I sent it to Jarkko right now for being mastered. I guess, it could be out in about 8 weeks, but I wouldn´t bet my butt on it, as I don´t know the factory schedule. It could be earlyer as well. It might be a good idea, to check out my website from time to time, or to join my mailing list, to be up to date about that.
Regarding the evolution or differences I would say, "You" is better produced than "Time to Speak", as I learned a lot during the last year. "Time to Speak" also contained tracks, that I made in 1999, like "Polygone". It was kind of a compilation of songs, made during the last 3 years.
"You" will contain tracks only, that I´ve made during the last year, though I also used songs, which have been written a couple of years ago. In some songs "You" is a bit more agressive or progressive. In other songs it is just different, but it is still "WAVE IN HEAD". If you liked "Time to Speak", you will probably like "You" too. If you wasn´t too fond of "Time to Speak", you definitely should check out "You", as it is another step ahead. I think "You" is a good album, but after all the reviews will have the last word.
nsi: Do you have a positive feedback from the public? How does the public recieve your musical work?
Michael: Fortunately I am used to getting good reviews, positive reactions and enthusiastic comments about my musical work. Partly I don´t even deserve that positive reactions, as a lot of that positive reactions refer to my voice.
nsi: Wave in Head is your own project. So, is it you who write all the music and lyrics or do you have any collaboration for it? How is your creative work?
Michael: Yes, normally I write all the music and lyrics and produce all the stuff myself. Todd Durrant (ADD) always looks over my lyrics, to protect me from doing typical German mistakes. The only exception until now was "Swinging Pendulus" - an Empire State Human song, that actually was a remix for the Irish electro band. Aidan encouraged me to use it on "I began to hope" and so I used it. In the future I will use songs written by other artists from time to time, but probably only on singles. For some reasons I want my albums to be written by me only.
The way, how I make a song might be similar to the way, how other artists do that. There are three ways, to get to a new idea. The first is, to wake up in the morning with a new song in your head and to be clever enough, to record it on tape, before you forget it. The second way is, to hear the man in your ear humming a new song and being clever enough, not to forget to take a dictaphone with you, wherever you go. And the third way is, to fiddle around with sounds to make the man in your ear humming a melody, which fits to your rough trials and being clever enough, to sing that idea on tape, before the man in your ear starts humming an advertising melody and screws you up.
nsi: What do you talk about on your lyrics? What messages do you try to send out to the public?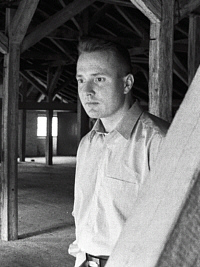 Michael: Oh actually I have no message for the public. That are tales and short stories about my life, or fictional situations. I like it, when the people find themselves in my lyrics, as they just reflect the life itself. But I don´t like to tell the people to do this or that, in order to make this planet a better world. I don´t think that most people like to be told, what they should do, especially by an artist, who has probably no idea about the complexities of the world. So I just talk about my life and give the public a chance to have a view into my mind.
nsi: How are your live shows? Do you go alone on stage?
Michael: First of all my live shows are rare, as I don´t play every weekend. When I play live, then mostly with Gerold Basner from Leon Glock (an electro band from my hometown Magdeburg). He´s working on the keys, while I sing and play some easy melodies on my keyboard. It´s fun. I´m not that advanced in terms of entertaining the crowd, but I get better and better. A year ago I moved a bit like having a lump of concrete on my feet (in fact I wore those mighty "shake the world" shoes), though I´m not that stiff normally. This year I did without that heavy shoes and I appeared much more natural.
nsi:12. What bands influenced or still influence you more?
Michael: I am still influenced by Depeche Mode, Kraftwerk and so on. Their music impressed me in an age, when I was open and searched for my identity (or for some cool identity -those teeny years). I guess their influence will last for the rest of my life, as electronic music is some kind of wonderland for my brain. A resort for my stressed soul. I like the unexpected and the 3 dimensional very much, and those bands delivered exactly this in a time, when most music was flat and forseeable. And this is exactly, what I want to do more and more, making 3 dimensional, surprising music.
nsi: In your opinion how's the Synth/Electro-pop scene? Do you think it's being well recieve around the world? And what about Germany?
Michael: First of all I should state, that I´m no specialist, but I´m not sure, if there is a big Synth/Electro - pop scene in Germany, though we had a hughe one in the 80ies, early 90ies. I think most people are after mainstream or non - pop. The black dressed scene in Germany has a few Synth/Electro - pop heroes, like Comouflage, Alphaville and some newer bands from the 90ies, but there are much more Darkwave- , Electro- and Goth bands, if I´m right. Electronic pop isn´t that hip over here. You can make it with Synthpop, but you have to have a bunch of outrageous luck, or you have to compromise and make dancefloor music, because then you have at least a small chance to be played by the big radio stations (during the day, not at night). In Germany most radio stations sound exactly the same. Those stations, which sound different, are news channels and play Jazz between two broadcasts.
The generation of teens and twens, which is buying CDs nowadays is likely unaware, that Synth/Electro-pop exists. I often hear or read, that people are positively surprised about my music and they never ever expected this kind of music, because everybody makes Hip Hop and stuff. I suppose even worldwide there is (in comparison to all other people) only a small number of people, who like (or know) electronic pop. The majority is into mainstream. You could "infect" a lot more people with this kind of music, if you had the financial power to do so. Then even Synth/Electro-pop could have the power, to be mainstream for a couple of years. But due to a natures law, those genres are successful, which have already been successful over the last 10 years, as if the people like it, to listen to the same song for half of their life. I´m pretty sure, that Synt/Electro-pop will be given another chance one day, but that can last...
nsi: After the release of "You", are you planning a promotional tour?
Michael: Nope. Perhaps this is the moment to explain, that I still have a steady job, which takes a lot of my time. I have to make a decision: I could work on a new album and make only a few gigs, or I could do a tour, sacrificing all my time, which is likely a heavily loss making enterprise and make no new album. What would you decide for ? Well as a professional I probably would do a tour, but right now I can´t afford it in no way, though I see the promotional benefit of doing a tour.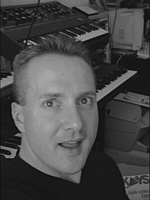 nsi: What are you planning for the future?
Michael: I plan on a third album, which should be even better than "You". I still have to learn a lot and I hope to reach more people in the near future. I want to find my name on the top of this scene and make the people proud of being part of it.
nsi: Before finishing, thanks, and any special message for your fans?
Michael: Yep ! I want to thank everybody, who has bought my CDs, visited my gigs and supported me (no matter how). Keep on visiting gigs of bands, that you like and buy their CDs. Don´t wait forever, because new bands disappear too easily. Don´t copy CDs of bands, that you like. And if you find, that WAVE IN HEAD is cool, then tell everybody about that and make them visiting me at www.waveinhead.com .
Leonel Silva
(October 2002)